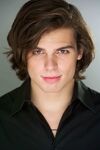 Cyrus Salvia is an Actor who portrayed Number Nine in The Fall of Five book trailer.

Salvia attended his first acting school in Brussels, Belgium in 2010 and is currently training in improvisation, scene study and is undergoing vocal coaching in New York.
Cyrus is able to speak french and has appeared in a number of theatre productions, both in Brussels and in New York. Salvia also has a number of film and short film credits.