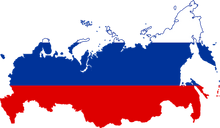 Russia is a country located in western Europe. It's Capital Moscow was intercepted by a Mogadorian Warship. Despite this, the Russians complied with the Mogadorians by being the only country following Setrákus Ra's orders to turn in their Human-Garde. The Captain of the Warship over Moscow declared himself to be "beloved leader" after Setrákus Ra's disappearance. This resulting in this Warship and the Warship over Berlin destroying each other, which led to presumably no casualties in Moscow.
Ad blocker interference detected!
Wikia is a free-to-use site that makes money from advertising. We have a modified experience for viewers using ad blockers

Wikia is not accessible if you've made further modifications. Remove the custom ad blocker rule(s) and the page will load as expected.