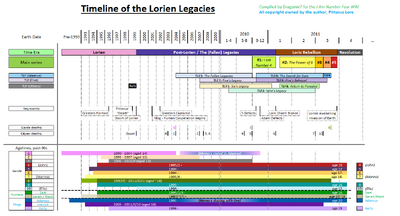 This article is a subpage of Timeline. It details the events happening in the Post-Lorien Era, after the surviving Loric have fled to Earth and scramble to hide from the Mogadorians and train the Garde's Legacies. The events of the first book (I Am Number Four) take place here.
Codes to the novels / novellas are appended in the table below. Brackets, where applicable, direct to the specific chapter of the book. For consistency purposes, the Garde's names are all represented in their numbers.
For the derivation of dates, refer to the relevant section of the main article.
Timeline of the Post-Lorien Era
Edit
The Legacies Edit
1999 ~ 2010/9.
The era of the Loric's hiding on Earth, and of the fallen Legacies of One, Two and Three.
Earth Year
Date
Main events
References
2000

The Loric ships arrive on Earth, the first landing in New Mexico, United States and the second in Egypt.

With the help of the Greeters, the Garde and their Cêpan take up aliases and part ways to avert Mogadorian tracking and allow the Garde to develop their Legacies in time to come.
Ethan, an opportunist among the Greeters, betrays the Greeters and defects to serve the Mogadorians.

The three Cêpan from the second ship attempt to assimilate life on Earth, including dressing and talking like locals, and trading some of their Loric treasures for Earth money.

The three attract Mogadorian attention and narrowly escape a skirmish when their sold Loric gems land on display in a Giza shop.

Janus, Zophie's brother and pilot of the first ship, is captured, tortured and killed by the Mogadorians.

LL1; TLF11

Lexa receives an anonymous contact from a Mogadorian, and finds out about Janus' torture and death under Mogadorian custody.

While Lexa takes a leisure drive alone, Zophie attempts to find clues online, unknowingly giving away her location.
The Mogadorians and their creatures ambush and attack Zophie and kill her, despite fierce defense from the Chimæra.
The Chimæra are subdued and taken to Mogadorian research labs.
Lexa, after grieving for her friends, decide to go undercover and aid to cover up Loric tracks on the internet, eventually heading an online forum They Walk Among Us under the alias GUARD.

Number Seven (under the alias Marina) and her Cêpan Adelina, after wandering through the streets of Europe in poverty, eventually find refuge in a convent in Santa Lucia, Spain. [1]

Adelina becomes devoted to church life and refuses to train Seven or leave for the next eleven years.

LL3; TLF11

Number Five and his Cêpan Albert narrowly escape a Mogadorian attack in Montreal, Canada.

Albert takes on various pseudonyms including Rey and takes a much stricter stance towards training Five.
Five gradually masters lying to deceive passers-by.

TLF7(2)
2002
LL1(16,19), LL2(18)
2003?

Number Eight's Cêpan, Reynolds, falls in love with a human, Lola.

The Mogadorians coerce Lola to provide a service in capturing Eight and Reynolds, and promise her with riches as reward.
Lola leads Eight and Reynolds into the Himalayan mountains, where they are ambushed by the Mogadorians.
The Mogadorians murder Lola and Reynolds, capture Eight's Loric chest and attempt to escape on a Mogadorian ship. Those that do not board it on time are all killed by Eight.
The Mogadorian ship capsizes in a lake, sending Eight's Loric chest to the bottom of the lake.

Eight meets Devdan, a spiritual guru, and learns about Hinduism, the god Vishnu and Indian martial arts.
Eight develops his Legacy of Shapeshifting.

Eight hides from spying Mogadorian ships by transforming himself into animals.
Eight stumbles upon Commander Grahish Sharma and his army while in Vishnu's incarnation, and is unceremoniously worshiped.

LL3(11)
2004
TLF3(5); TLF7(2)
2005

Number Nine and his Cêpan Sandor stop travelling around the world after a final stopover in Vancouver and settle down in John Hancock Center, Chicago.

2006

Number Seven befriends Héctor Ricardo in a town café on her way back from school.
Seven and other girls from Santa Teresa embark on an excursion to a large lake.

Seven is forced into a game of Queen of the Dock.
Seven develops her Legacy of Underwater Breathing at the brink of drowning.

Seven locates a secluded cave in the mountains and begins using it as her secret hideout.

LL2(5,9)
2007

Awakening of Adamus Sutekh from his coma.

Adamus, after reviewing the memories of Number One, turns sympathetic to the Garde and is convinced by the ill-natured desires of his fellow Mogadorians.
Adamus denies the practicality of Doctor Lockam Anu's machine, leading his father to kill the scientist.

Conrad Hoyle, Cêpan of Number Two, is separated from his Garde and tracked by the Mogadorians to London where Two lived.

Conrad is ambushed on a London bus by Mogadorian soldiers and is subsequently overwhelmed and killed by Ivanick Shu-Ra. [2]
Two creates a blog post hinting her identity, and is quickly discovered by Adamus, Four, Six and Seven. Six subsequently replied to the post.
Death of Number Two:
Adamus rushes to Two's house and attempts to aid her escape, but is foiled when Ivanick and a group of Mogadorian soldiers arrive, killing Two.
Adamus falls out of favour from his father for cowardly behavior.

Number Five's Cêpan Rey gives Five a drill practice of escaping from attacking Mogadorians, of which Five does badly.

Rey reprimands Five for not training, leading to Five's resentment of his Cêpan.
Five acquires his Legacy of Telekinesis after an anger fit.

TLF3(13); TLF7(1)

Number Six and her Cêpan Katarina are tracked in Texas by a Mogadorian scout, who attaches a tracker onto their truck.

Six and Katarina make a close escape as the scout is apprehended by the locals.

Six buries her Loric Chest in Arkansas during a brief stay.
Six and Katarina stay for a few days upstate New York before being captured by the Mogadorians and taken into their base in West Virginia.

The Mogadorians torture and kill Katarina to force information from Six.
Six is forced to admit all her knowledge about the Garde and her Loric Chest's location, but managed to not say anything and deceive her captors in believing that she is Number Eight.

LL2(8)
TLF7
2008

Six develops her Legacy of Invisibility while imprisoned in the Mogadorian base in West Virginia.

Six escapes from the base, killing Katarina's torturer in the process.
Six draws a map of the Mogadorian base from memory.
Six goes into hiding in various hotels to develop her Legacies.

2009 [3]
c. Summer

Five prepares his items and prepares to leave his island behind for Martinique.
Five meets and befriends Emma, a fellow thief.

Five spends luxury time with Emma and improves his thieving and lying skills with her help.
Five and Emma spot Ethan and attacks him for his money, but is met with strong resistance.
Five's attacks impress Ethan, who willingly invites the duo to work for his company.

TLF7(4-7)
September

Five seriously injures Marcus, Emma's brother, during a mission in a warehouse.

Emma grieves over her brother and severs her friendship with Five.
Five is forced to follow Ethan, who admits knowledge about Five's superpowers and potentials.

Ethan brings Five to a well-equipped training compound and sets about training Five's legacies.

TLF7(8)
2010
c. Spring

Number Nine kills a rogue Mogadorian tracker just outside his Chicago home.
Nine befriends Maddy , a human teenager.

Nine attracts Mogadorian attention while driving with Maddy through downtown Chicago in Sandor's car, and has a fallout with his Cêpan Sandor.
Nine develops his Legacy of Antigravity.
Nine is coerced by Maddy to go to her house, where she surrenders him to the Mogadorians in exchange for her parents' safety.
Nine is taken to the Mogadorian base in West Virginia and his chest is confiscated.
Nine is forced ro watch Maddy and her parents get killed by a Piken.
Sandor is captured in Ohio, brought to the base and gruesomely tortured. Nine mercy-kills him.

September [4]

The Mogadorians track down Number Three in Kenya, but are unaware of his order.

Adamus Sutekh and Ivanick Shu-Ra are sent by General Andrakkus Sutekh to Kenya under the cover of doing humanitarian aid to confirm the identity of the Garde.
Both scouts meet Number Three, known locally as Hannu, but do not engage in conflict. Ivanick then proceeds to contact the Mogadorians to capture the Garde.
Adamus attempts to aid the Garde's escape and convince Ivanick to do so, but is quickly branded a traitor, and proceeds to subdue Ivanick and knock him unconscious.
Death of Number Three:
The Mogadorian Army close in on Three and kills his Cêpan. Three attempts to escape, but is killed by General Sutekh.
Adamus is pushed off a ravine by Ivanick and falls into a state of limbo.

TLF3(22-27)
2010/9 ~ 2011/1/10.
The adventures of Four after the murder of Three; his school life, Legacies training, and eventual discovery and battle with the Mogadorians.
Earth Year
Date
Main events
References
2010
September

Death of Number Three at the hands of the Mogadorians.

Number Four, under the alias Daniel Jones and on a boating trip in Florida, makes immediate plans to leave with his Cêpan Henri.

Number Five discovers the startling revelation of his warden Ethan working for the Mogadorians.

Ethan explains the Mogadorians' motive of training Five to aid them in conquering and ruling Earth.
Ethan reveals known Mogadorian intelligence about Nine's imprisonment and custody, his Chicago home location [5] as well as his stubbornness to compel with Mogadorian wishes.
Ethan persuades Five to give up the evasive lifestyle of the Garde and take up the Mogadorian cause to acclaim respect and luxury.
Five considers his situation and compares the respect he received from Rey and the Loric Elders, as compared to Ethan, and willingly chooses the latter.
Five develops his Legacy of Externa.

Five meets the Mogadorians at the FBI headquarters.

The Mogadorian official offers Five rule over North America in exchange for his loyalty to the Mogadorian cause.
Five agrees, and is tasked with his first murder mission: to kill Nine.

Five settles into a routine between physical/Legacy training and reading Ra's Great Book.

LL1(1); TLF7(9,10)

Four and Henri settle down in Paradise, Ohio.

LL1
Early October

Adamus Sutekh is saved by a local, taken to the camp hospital and nursed back to health.

Adamus befriends Elswit, a rich American volunteer.
Adamus becomes attached to his volunteer work and unwilling to aid the Loric cause, until One convinces him to do so by forecasting her death.
Elswit helps Adamus obtain an American passport and flies with him back to the U.S. together.

TLF4
c. Mid-October

Five is led into his new home in the Mogadorian Mountain Base in West Virginia.

Five takes orders from his new superior, trueborn Mogadorian Commander Deltoch.

Five takes his first glimpse at Nine in his cell, and is given a couple of files on Nine's background to study on.

Five is disgusted by Nine's arrogance and despect towards the earlier numbers of the Garde, as reported in the articles. He uses the hatred towards Nine to drive him on his course in ascension of power in the Mogadorian ranks. [6]

TLF9
Late October

The manager of the They Walk Among Us forum and close associate of the magazine's editors, inform the forum members and the editors that he has captured and tortured a Mogadorian, and spreads tales about the Mogadorian conquest. [7]

A short article about Mogadorians is published on the They Walk Among Us magazine.
The Mogadorian intelligence is notified and sent scouts to question and check on the editors.

Adamus returns to Ashwood Estates and upon death threats from his father, General Andrakkus Sutekh, takes a position at the Media Surveillance facility under the Ashwood Estates complex for intelligence work.

Adamus, after being demoralized from an experiment with Dr. Zakos, attempts a retaliation by discarding all intelligence links, and is subsequently arrested. [8]
Dr. Zakos arranges with General Sutekh to use Adamus for one last mind-transfer experiment before putting the latter to death.
Adamus disrupts Dr. Zakos' experiment and overpowers him.
One initiates a final experiment linking her dead body and Adamus's, successfully transferring her Legacy of earthquake generation to him.

Adamus uses the Legacy to shake the foundation of the underground chambers beneath Ashwood Estates and cause it to collapse.

Malcolm Goode, a Greeter imprisoned in the laboratory, is freed during the earthquake, carries the unconscious Adamus and break through the complex with him.
Adamus bids a final farewell to One as her memories lose connection with his for the last time.

LL1(21), TLF4

Four, Sam and Sarah participate in the Halloween activities.

Four is ambushed by Mark James and his gang, but manage to defeat them with his strength and Legacy of Lumen.
Four makes peace with Mark after letting his gang swear over not revealing the details of the fight.

LL1(15)
c. November

The Mogadorians track down and capture Emma, and take her to the entrance of the Mogadorian Mountain Base.

Five, accompanied by Ethan, is led out of the base by his Mogadorian Commander Deltoch to see his handling of Emma.
Five decides to spare Emma's life by justifying the use of her and her brother as intelligence sources.

TLF9(4)

(25)[9] Four first develops his Legacy of Telekinesis.
Henri attempts to track the authors of They Walk Among Us in Athens, Ohio, but is held captive and is eventually saved by Four and Sam.

Four, under pressure from Sam, reveals his true identity as a Loric Garde to him.
Henri first writes his farewell letter.

LL1(20), LL2(18)
c. November - February

Adamus befriends Malcolm and relates his tale, and with Malcolm's help, trains to perfect his newfound Legacy as the pair travel across the country.

Adamus attempts to arouse Malcolm's lost memories through asking questions and quizzes, and slowly finds out about his past.

TLF4(12)
2011
Early January [10]

(1) [11] After an earthquake in Argentina, Mogadorians stage a rumor of Sofia García, a supposed Garde girl, lifting a heavy concrete slab to save a man and disappearing soon after, to try to lure the remaining Garde out.
(8) James house Fire incident:

During a party at Mark James's house, an accidental candle fire in the basement spreads to the entire house, which burns down quickly.
Four dashes into the house during the fire to save Mark's dogs and Sarah Hart.

(9) A scene of Four's bravado is captured and published on the town press and YouTube.

Number Six finds information of the incident while in Athens, Georgia, and immediately heads for Ohio.

(10) Four is questioned by his school principal Mr. Harris about the James house incident.

Four is alarmed upon receiving an anonymous letter addressing him by number, and instantly jumps out from the principal office's window. [12]
Four returns home and is confronted by Mark and Henri about the incident, but reveals nothing.
Four finds Sarah alone in school and attempts to take her to safety.
Six arrives at the school, introduces herself to Four and Sarah and aids them with her Legacy of Invisibility.
The breaking of the Loridas Charm due to the meeting of Four and Six.
The beginning of the Great War between the Garde and the Mogadorians on Earth.

Battle of Paradise High School:

Mogadorian soldiers arrive at Paradise High School and begin hunting Four.
Henri, Bernie Kosar, Sam and Mark arrive armed at the school under the cover of darkness.
Four, Six and Henri are ambushed by Pikens in the school gymnasium, but manage to repel them.
Four, Six, Sam, Sarah and Mark fight their way out, killing most of the Mogadorian soldiers and repelling them from the school.
The Mogadorians summon a powerful creature to take down Four.
Four manages to persuade the creature to turn against the Mogadorians instead, but not before it has fatally wounded Henri and injured Bernie Kosar.

(11) Sarah, Mark and Sam quickly gather up Four and Henri's items from their old house.

Sam drives Six, Sarah, Mark, Bernie Kosar, the unconscious Four, along with Henri's body and all of Four and Henri's items away from Paradise.
Four awakes in a hotel 30 miles away from Paradise.
Four cremates Henri in the nearby woods with the help of the others.
Four, Six and Sam bid farewell to Sarah and Mark, and prepare to set off on the run once again.

LL1(28-34)
Major events in the Lorien Legacies series
Before the Fall of Lorien
Fall of Lorien
The Legacies
I Am Number Four
The Power of Six
The Rise of Nine
The Fall of Five
The Revenge of Seven
The Fate of Ten
United As One

To Be Published

Other events
Ad blocker interference detected!
Wikia is a free-to-use site that makes money from advertising. We have a modified experience for viewers using ad blockers

Wikia is not accessible if you've made further modifications. Remove the custom ad blocker rule(s) and the page will load as expected.