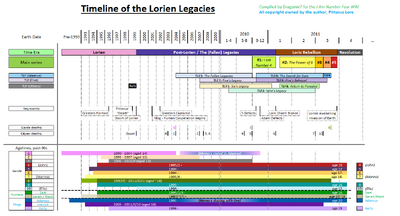 This article is a subpage of Timeline. It details the events happening in the Revolution Era, where the events between Book 6 (The Fate of Ten) and Book 7 (United As One) along with other events in the same timeframe, take place. It is still very incomplete and is a Work-in-progress.
Codes to the novels / novellas are appended in the table below. Brackets, where applicable, direct to the specific chapter of the book. For consistency purposes, the Garde's names are all represented in their numbers.
For the derivation of dates, refer to the relevant section of the main article.
Timeline of the Revolution Era
Edit
Date
Main events
References
March 26
March 27
Ad blocker interference detected!
Wikia is a free-to-use site that makes money from advertising. We have a modified experience for viewers using ad blockers

Wikia is not accessible if you've made further modifications. Remove the custom ad blocker rule(s) and the page will load as expected.