==SPOILER ALERT DO NOT READ IT YOU HAVE NOT READ THE LAST DAYS OF LORIEN***==

So... that's the cover of The Last Days of Lorien!
And the narrator of this Lost Flles wil be... Sandor! I think that will be just amazing and I hope that we will see the rest of the Cepans in this backstory. 
The synopsis from HarperCollins website:
In this stunning prequel novella to the New York Times bestselling I Am Number Four series, discover what really happened in the final days of the doomed planet from the eyes of Sandor—who would go on to become the reluctant Cêpan to Number Nine. 
Before Number Four and the others arrived on Earth, they lived on the planet Lorien. A planet filled with others who also had extraordinary abilities. A peaceful planet––until the day the Mogadorians attacked, and nearly annihilated, the Loric people. 
Only a handful of Loric survived the battle. This is Sandor's story. 
Pittacus Lore is Lorien's ruling Elder. He has been on Earth preparing for the war that will decide Earth's fate. His whereabouts are unknown.
I made this nice image to show you the beauty of new cover (originaly posted on my polish fanpage )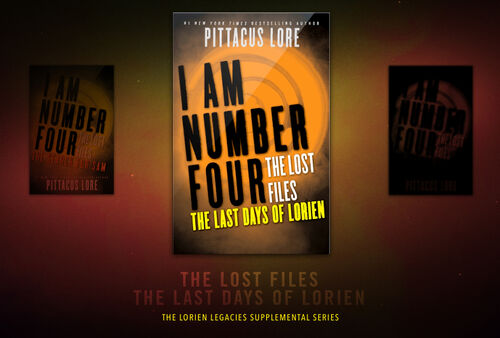 Pages to be CREATED, some are more important than others and may not even need a whole page but info does need to be added somewhere.
pages to be UPDATED
Lorien - description and list of places (Capital City, Spires of Elkin, East Crescent, Eilon Park, Deloon, Feldsmore, Terrax Ocean, Outer Territories)
Cepan - different job roles - Kabarak, LDC (Mentors, Engineers..), loralite mining, chimaera husbandry, farming
Elders - information on history and where they disappeared to
One of Nine's Chimeara is called Byescoe
Nine's Grandfather has precognition? - says he can rarely see the threads of destiny.
New informations on the Mogadorian Invasion of Lorien
Sandor's history
a bit more information of Brandon/Henri's history
Nine's history
Loric Ship description - Autodoc, Canteen, activities on board
Hilde's loric name is Hessu, Adelina's loric name is Adel, two other cepan were named but not sure which ones they were - Kentra and Kater.
Ad blocker interference detected!
Wikia is a free-to-use site that makes money from advertising. We have a modified experience for viewers using ad blockers

Wikia is not accessible if you've made further modifications. Remove the custom ad blocker rule(s) and the page will load as expected.